Place/Date: – December 2nd, 2022 at 9:00 am UTC · 5 min read
Source: WePad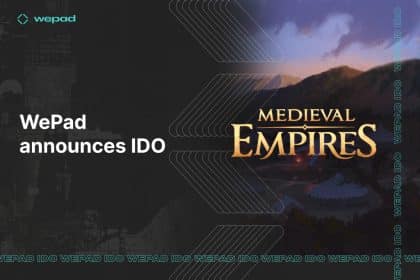 WePad, a decentralized fundraising platform that helps startups raise capital, announces collaboration with the Medieval Empires gaming project to host its IDO. It will be launched on December 12, 2022 to distribute over 8.88 mln MЕE tokens among WePad users. Raised funds will be allocated to fuel project development and give players an onramp in the game.
Blockchain gaming is on the rise, but with the growing amount of projects, players face difficulty choosing platforms that deliver both exciting experiences and sustainable tokenomics. Striving to get caught in the wave of hype, many businesses copy crypto games and don't come up with any innovations, which is a lose-lose scenario for startups and players.
Another serious challenge of the web 3.0 industry has been highlighted by Assad Dar, Chief Visionary Officer & Co-Founder:
"Blockchain games are mostly designed to appeal to crypto geeks, while a larger target audience – online players from all over the world – cannot overcome a steep learning curve to enter the niche. Blockchain-powered games seem to be complicated because you need a crypto wallet to get started, and tokenomics add to the confusion. The Medieval Empires project aims to solve this issue (not to mention that it will be fun)."
To cater to a larger audience, the Medieval Empires project will deliver a custodial wallet with a smart free-2-enter setup. This way, even crypto newbies will be able to easily enter the game, play and earn. Players will be gradually onboarded under the guidance of co-founder Carl Runefelt aka the Moon, one of the biggest crypto influencers in the world. Besides, a more mass appeal will be achieved through having famous Turkish actor and producer, Engin Altan Duzyatan, as the face of the game.
Eugene Ipatko, WeWay's Co-founder and CEO of WePad, said:
"I am pumped to announce a soon-to-be-launched IDO of Medieval Empires because this is one of the most thoroughly-crafted crypto games I've seen. I'm sure this fundraising campaign will pave the road for project development and popularization. It's really worth the gamers' time, not to mention immense possibilities unleashed for MEE token holders."
Being a governance token, MEE will provide holders with community and political influence, topped off by such perks as airdrops and special lands.
About WePad
WePad is an IDO launchpad that empowers crypto startups to raise capital. Being based on Binance Smart Chain, WePad is a multi-chain platform where Web 3.0, NFT and crypto projects can get financial support from the community and venture capitalists.
To facilitate development of young companies and provide users with satisfactory experience, WePad ensures full transparency of the fundraising processes and guarantees strict following to KYC for each participant. With complete decentralization, multi-chain support and open-source smart contracts, WePad becomes a safe haven for both startups and their supporters.
Every project is meticulously audited by WePad's experts with respect to value proposition, team's background, tokenomics, and community. Another launchpad's outstanding feature is the proportional allocation model that guarantees a share of tokens for each native token stakeholder.
WePad partners with hundreds of opinion leaders and crypto influencers who help introduce top projects to the launchpad and build communities that not only benefit from token sales at the early stages but also support projects through their development stages.
To learn more about WePad and how it's revolutionizing fundraising for blockchain startups, explore its website, follow the project's Twitter, Telegram channel, as well as connect with the community in the chat.
About Medieval Empires
Medieval Empires is a Play-to-Own game that is based on the Polygon blockchain. It is being created by an experienced team of 50+ people that have decades of experience working with the biggest game studios around the world (InnoGames, Wargaming, King, Kabam, 5thPlanet Games, Wooga and many others). The project puts emphasis on creating fun gaming experience and helping crypto newbies explore the Web 3.0 industry.
What makes the game unique:
Growing world map. Starting from the release date, the map of the ME world will keep expanding. Creators promise to add new lands from Europe to Africa via the Middle East all the way to Asia. Note that all players interact in a single persistent game world the development of which is in their hands.
Unique settings. The initial game events take place in the Turkish region of the Middle East – they allow players to view historical events from another angle.
Evolving hero system. Players will be able to level up and develop their unique heroes. Later on, they can be used in battles or sold on marketplaces.
PvP battles and events. The individual interactions between players will define the development of the game environment. For example, conquering of a fraction can lead to a significant shift of powers in a particular region.
DeFi staking. The MEE token can be staked in the game, enabling players to accumulate earnings, participate in airdrops, and receive perks, for example, power boosts.
Land renting. With pieces of land represented by NFT tokens, owners can generate passive income.
NFT marketplace. Players will be able to trade their non-fungible tokens (land, heroes, resources and other objects) right in the game or on other marketplaces supporting the Polygon blockchain.
Finally, Medieval Empires delivers a cross-platform gameplay: it will be available in both mobile and desktop versions. Users will be able to enjoy their gaming experiences sitting at home on the PC or while being on the go.
More information on the Medieval Empires project can be found on the website, Twitter, Telegram and Discord.
Subscribe to our telegram channel. Join


Thanks
#Medieval #Empires #Launching #IDO #WePad #Refine #Web #Gaming #Industry