When you create a Public account using our referral link and referral code MONEYDONERIGHT, you'll receive a free stock worth as much as $300.
As a referred user, you'll have the option to choose from a number of different stocks when creating your account.
Keep reading to learn how to take advantage of our unique referral bonus.
How Our Public Referral Program Works
As mentioned above, all you need to do to earn a free stock is use our unique referral link, then sign up with the referral code MONEYDONERIGHT and deposit money into your new account.
Public Referral Bonus Offer

| | |
| --- | --- |
| Minimum Deposit | $0.01 |
| Bonus Amount | Stock worth $3-$300 |
| Bonus Deposit Timing | Within 5 days |
| Minimum Hold Period | 90 days |
Follow these six steps to ensure that you receive and keep the bonus.
1) Use Our Referral Link
Tap or click our referral link.
If you're on a mobile phone, you'll go directly to the Public app's page on your app store.
If you're on a desktop/laptop, you'll go to the Public site, where you can enter your phone number to get texted a link to download the app.
2) Download and Open the Public App
Download the app from your app store, and open it.
3) Choose the Referral Code Option on the First Screen
On the first screen of the app, you'll see two options — "Get Started" and "I have a referral code". Tap "I have a referral code".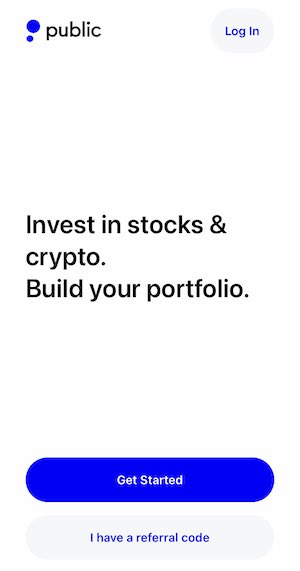 4) Enter the Referral Code MONEYDONERIGHT
In the box with "REFERRAL CODE" inside it, type MONEYDONERIGHT.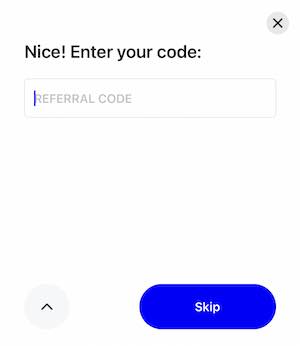 5) Choose Your Stock!
Choose the stock you'd like to receive — at time of writing, Public is currently offering new users stock in Zoom Video, Tesla, Amazon, Beyond Meat, Disney, Apple, Peloton, Shopify, and others.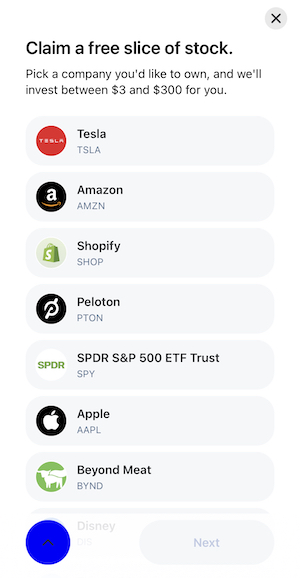 6) Complete Your Account Setup and Fund Your Account
Finish setting up your account, then link a bank account or debit card and make a deposit of any amount.
Between $3 and $300 of your chosen stock will appear in your account shortly after the deposit clears — which can happen in a matter of seconds.
Conditions
While the stock will appear in your account immediately, you must wait at least 90 days before selling your stock and withdrawing it in cash.
The cash value of the free stock offer may be taxable, and is subject to capital gains or losses if you sell it.
It's also worth noting that Public is only available in a limited range of locations.
Unfortunately, residents of New York, Guam, and the U.S. Virgin Islands currently aren't able to trade crypto on the Public exchange.
Furthermore, Public isn't yet available in either Canada or Europe, so you can only take advantage of this offer if you live in one of the 49 states other than New York.
How Public Works
Public is a unique investing platform that gives users a wide range of investing options. The Public app is currently available on both iOS and Android devices.
The iOS app has an incredible 4.7 score average on roughly 36,000 ratings, while the Android app is just slightly lower at a 4.5 average on about 28,000 ratings.
With a Public account you can buy and sell stocks, as you would with a traditional brokerage.
But Public also offers investors advanced options. Public users can:
Buy and sell fractional shares for as little as $1
Buy and sell popular cryptocurrencies like Bitcoin, Ether, and others
Buy and sell other assets like such as exchange-traded funds (ETFs)
Avoid transaction fees — Public doesn't charge them
Get basic research and data points about individual stocks
Interact with other investors in the Public community
With this in mind, it's an excellent option for users who have experience with more traditional assets but are also interested in diversifying into cryptocurrencies.
Unlike many other platforms, Public caters to both investments at the same time. You can quickly sell Bitcoin and other cryptocurrencies, then use the proceeds to invest in stocks like Amazon or Tesla.
Researching Assets on the Public App
Public offers basic price data on stocks. This data is available for free online, but having it available one touch away is nice.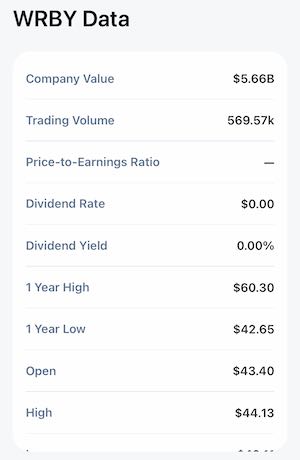 Public also shows buy/sell scores from independent analysts, along with a graph showing how analysts expect the store tp perform.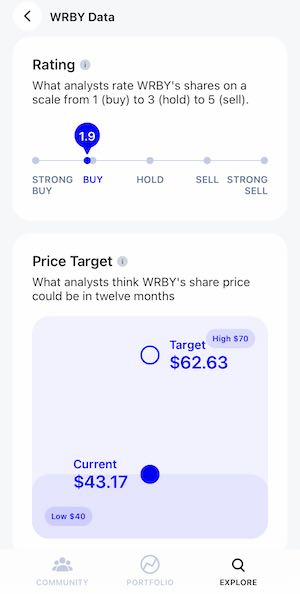 While traditional brokerages offer far more research, the information that Public offers can serve as a basic sanity check for beginning investors.
Buying Stocks on the Public App
These are the steps to buy a stock on the Public app.
1) Tap "Invest" on the stock home screen.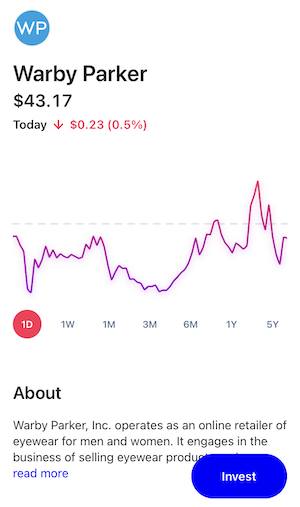 2) Choose the type of transaction you want to make, and the amount you want to invest.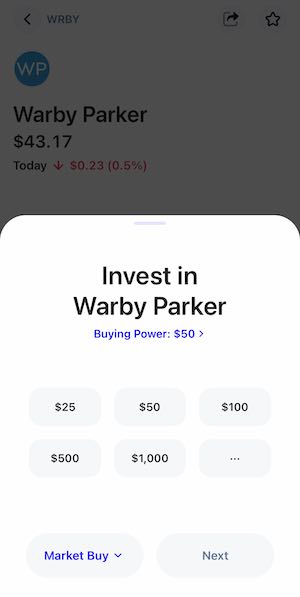 The default transaction type is to buy fractional shares based on the amount you want to invest. But you can also choose to buy whole shares, as well as limit and stop orders.
3) Review the transaction and tap "Submit".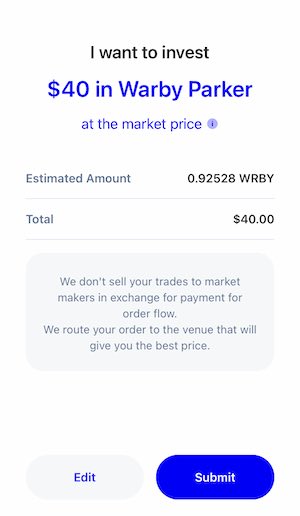 4) Choose whether to leave a tip.
To support Public's service, you have the option to leave a tip to cover part of the cost of the transaction.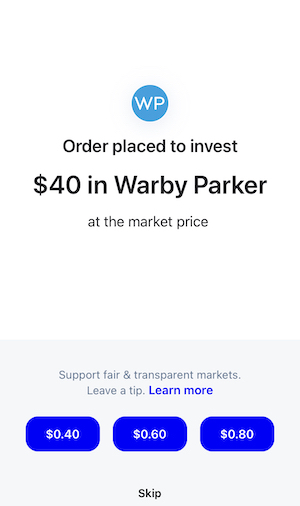 How Public Makes Money
The platform is also known for not working with Payment for Order Flow companies—in other words, their business model doesn't involve selling transaction data to third parties.
Instead, Public makes money by asking users for optional tips, plus optional security lending for users who want to earn additional interest on their assets.
There's also a small markup of an estimated 1% to 2% on all crypto transactions. This is imposed by Apex Crypto, which manages Public's crypto transactions. From there, Public receives a small kickback in exchange for bringing Apex Crypto your business.
Related: 20+ Ways to Get Free Cryptocurrency
History of Public
Public is a major investing platform that has received backing from a number of high-profile investors.
Social-Investing App Startup Public Raises $15 Million From Will Smith, JJ Watt, Sophia Amoruso and Others https://t.co/eLKOmzCDIk

— Variety (@Variety) March 2, 2020
Celebrities like Will Smith, J.J. Watt, Tony Hawk, and the Chainsmokers have invested in the service and helped it gain more exposure over the last few years.
Refer-a-Friend
Once you create a Public account, you can earn additional free stocks by referring new users to the service.
Similar to our offer, this program gives your referrals a free stock when they create an account and make their first deposit.
However, you will also receive a free stock of your own in exchange for each successful referral you make.
When they sign up through your referral code, both sides will get free stock worth somewhere between $3 and $300.
Again, you'll need to wait 90 days after the offer processes before you withdraw the funds into your own account.
WARNING: You may not get the maximum bonus!
While a $300 stock might sound good, most users will receive much closer to the minimum of $3.
According to the Public website, a full 92% of users will get a value of $3, leaving just 8% of users to get anything more. Just one-half of a percent of all participants will get the full $300.
Additionally, users are limited to a cumulative maximum of $500 in referral rewards. You won't receive any bonuses after you pass $500 in lifetime earnings through the referral program.
Public Community
Along with its investing services, Public has also been involved in a variety of projects to engage with their community.
Public users are invite to post to the community when they make trades, as well as discuss their opinions with the community.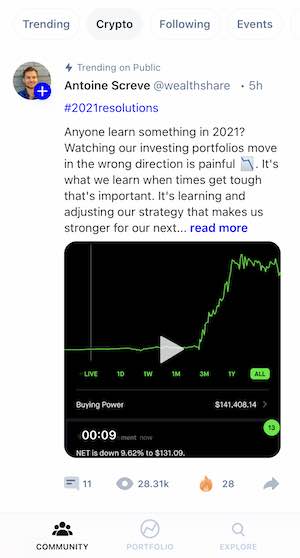 Here are just a few of the most exciting community projects we've seen from Public.
Events
Public runs regular events to spread information about a variety of topics related to investing. Interested users can sign up for event notifications on the Public Talks website.
For example, Public recently offered interviews and Q&A sessions with experts and industry insiders who could speak to the latest trends in gaming and esports.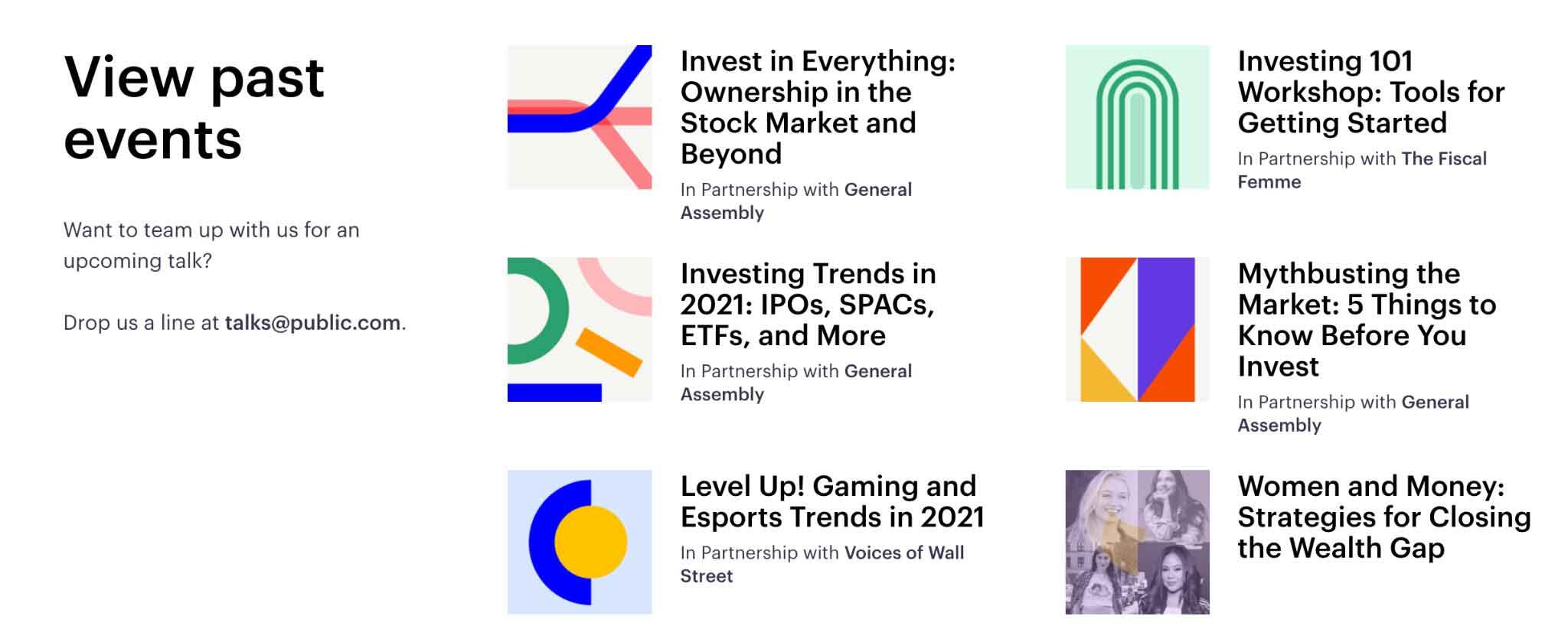 Speakers included Super League Gaming CEO Ann Hand, ARK Invest analyst Nicholas Grous, and Esports Entertainment Group VP of Strategy and Head of Investor Relations Jeff Cohen.
If you think you can offer a unique perspective, you can also contact the Public team directly to schedule a talk.
The Invest Hat
The Public Invest Hat is an exclusive accessory that's saved for users who make a significant contribution to the Public community.
There's no surefire way to guarantee yourself a hat, but consistently engaging with other Public users will increase your chances.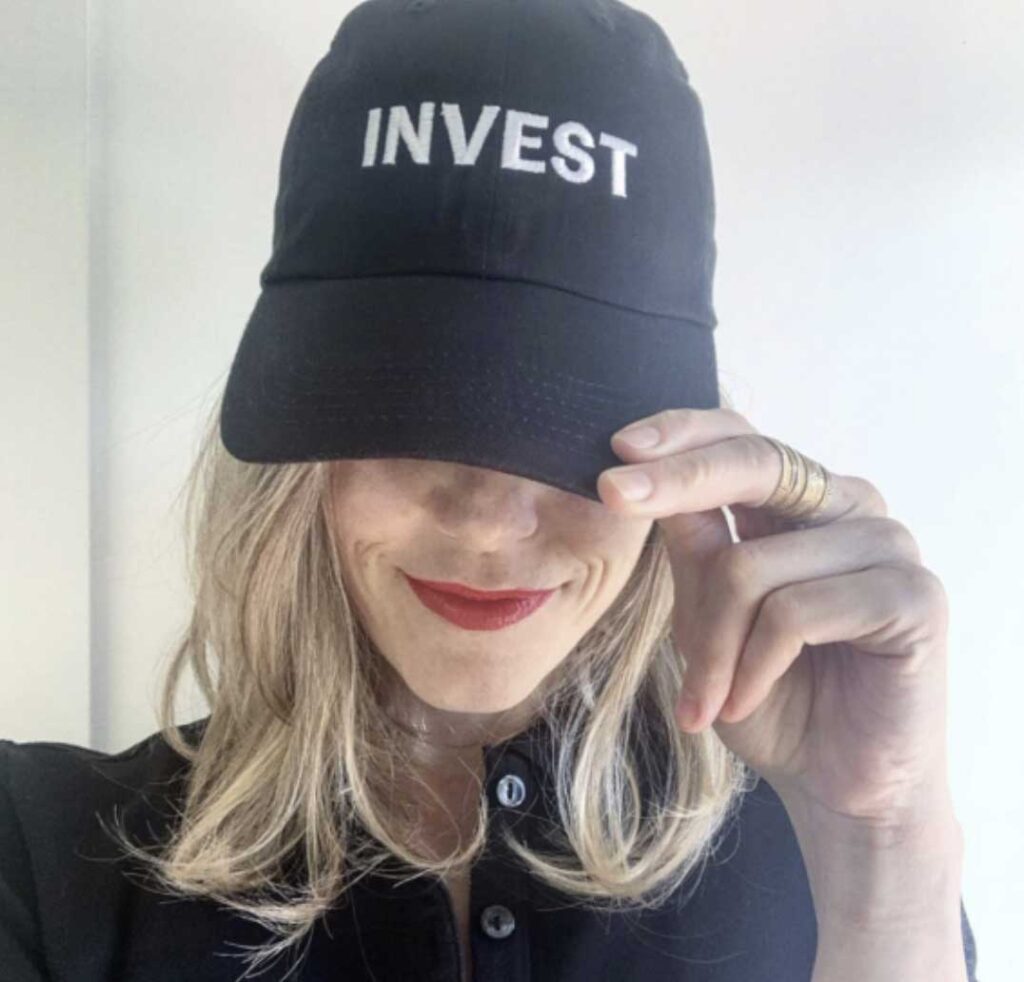 What makes these hats unique is that there's no way to buy them—the only way to get one is to prove yourself as an active member of the community.
Ticker Tees
Ticker tees are customizable t-shirts that connect directly to your Public account.
After signing in, you can select stocks you want to display on your new ticker tee.

Themes
New investors often come in with a certain set of goals. For example, you might want to buy shares of Black-owned businesses or companies that are making an effort to combat climate change.
Unfortunately, it isn't always practical to do the research necessary to find businesses that match the factors that are most important to you.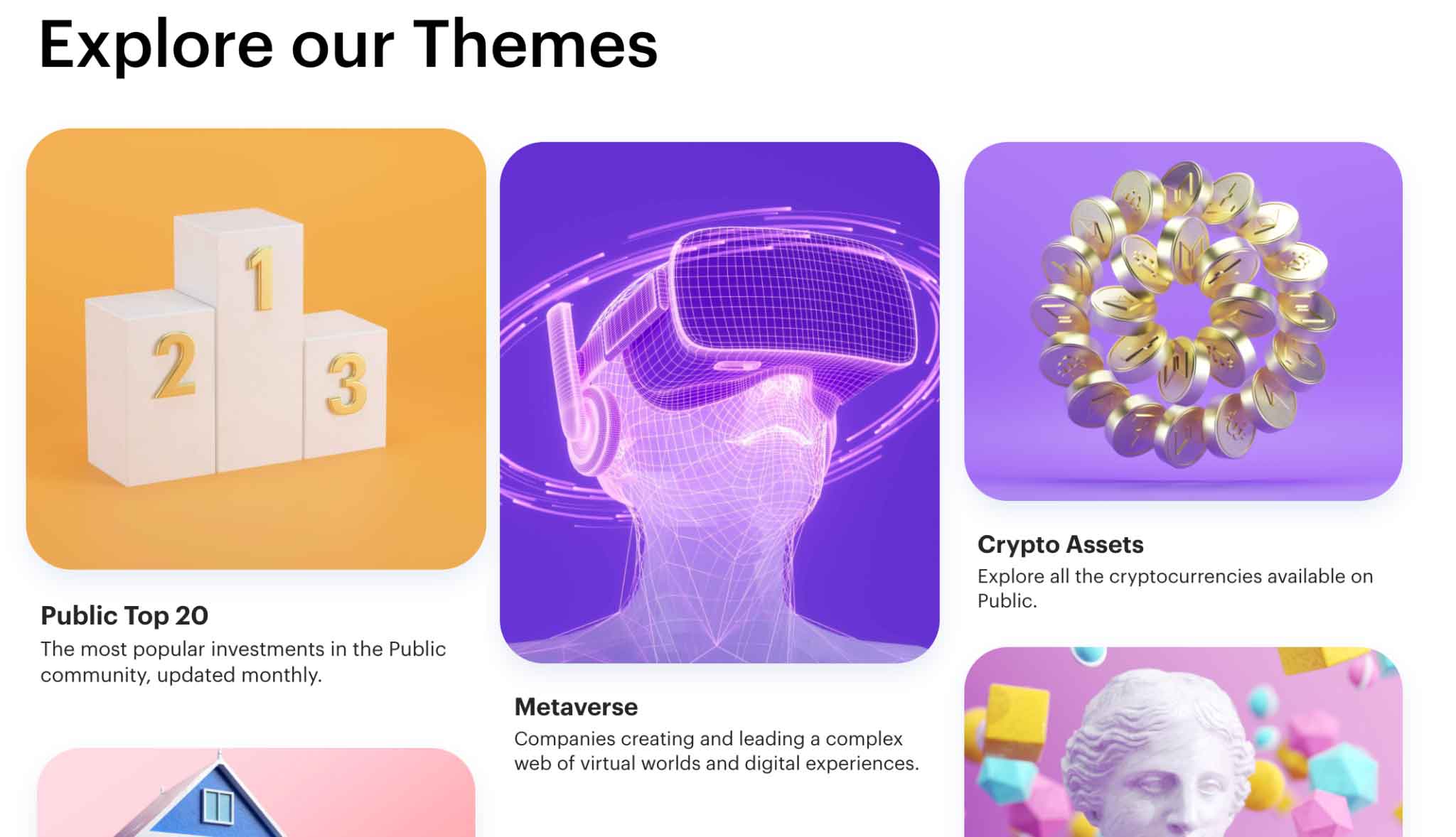 Public's investing themes are intended to make it easier for traders to invest in companies with a positive outlook while supporting the causes they care about.
Current themes include companies with female CEOs, companies that manufacture products in the United States, and companies that are dedicated to fighting COVID-19 and other diseases.
When you invest in a particular theme, you'll be buying shares in a diversified selection of companies that align with your criteria.
How Did Public Work for You?
If you created a Public account using our referral link and the code MONEYDONERIGHT, we want to know how you feel about the service. Leave us a note in the comments below and let other readers know what to expect if they sign up for Public.
Bonus Amount
Up to $300 in free stock
Minimum Balance
$0.01
Promo Code
MONEYDONERIGHT


Thanks
#Public #Referral #Code #MONEYDONERIGHT #Free #Stock #November