The InboxDollars referral link gives you a $5 signup bonus once you confirm your email.
Keep reading to learn exactly how to take advantage of our $5 InboxDollars bonus.
How the InboxDollars Referral Program Works
All you have to do to trigger the introductory bonus is sign up through our referral link and verify the email address associated with your account.
| | |
| --- | --- |
| Bonus Amount | $5 |
| Bonus Eligibility | New accounts only. |
| Bonus Requirement | Confirm your email. |
| Payout Requirement | Earn at least $15 total. |
Step 1: Click on our referral link and sign up for InboxDollars.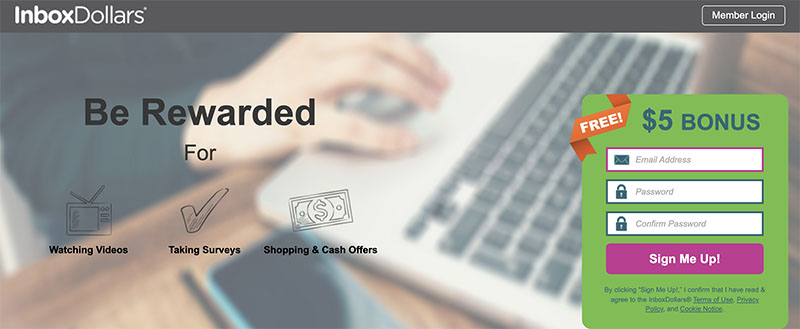 Step 2: Verify your email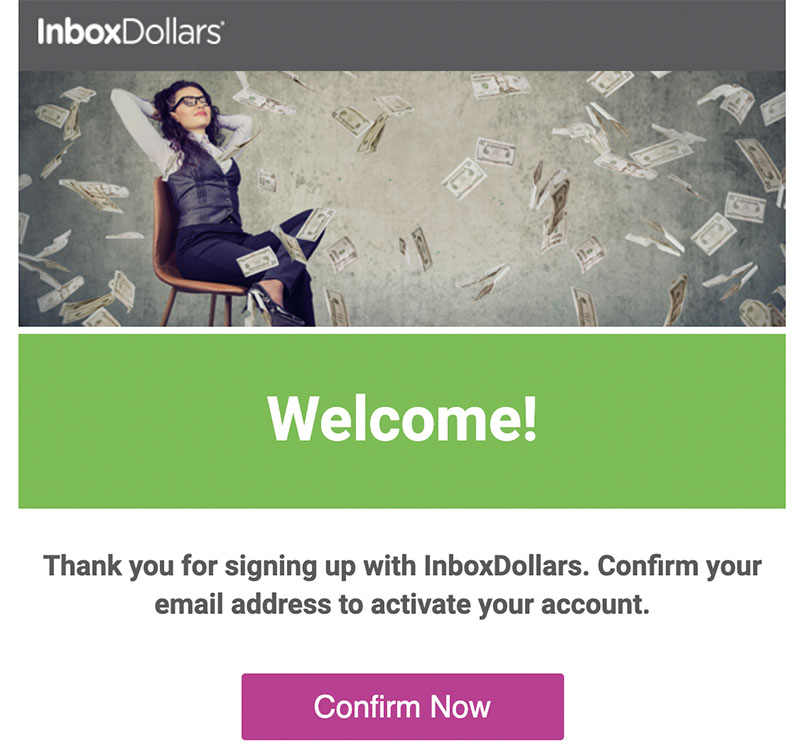 Step 3: Your bonus will appear in your InboxDollars account.

Step 4: Continue earning rewards until you reach $15, the minimum amount for cash out.
While you do get the $5 in your account, you can't actually get the money unless you continue using InboxDollars.
You must reach $15 in rewards to cash out — below, we'll explain the many ways you can get there.
Once you reach the $15 threshold, you can request payout via PayPal, or claim a $15 gift card.
Whether or not you can get a gift card at that threshold depends on the retailer.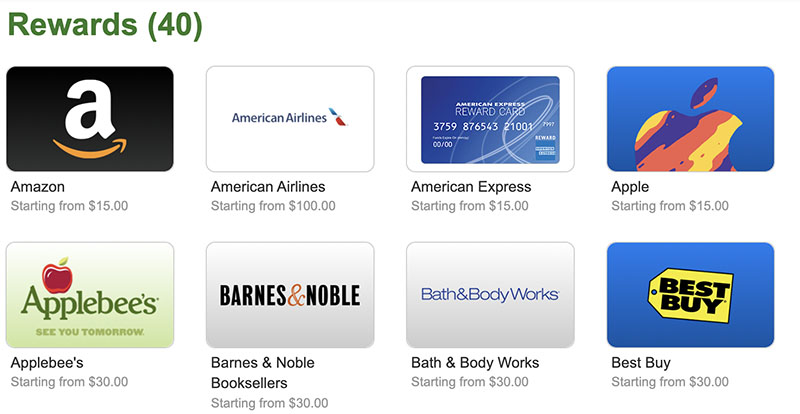 Want more free money? Best Referral Programs to Make Money
How InboxDollars Works
InboxDollars is a rewards platform that enables users to earn money by performing one of a few different tasks.
Surveys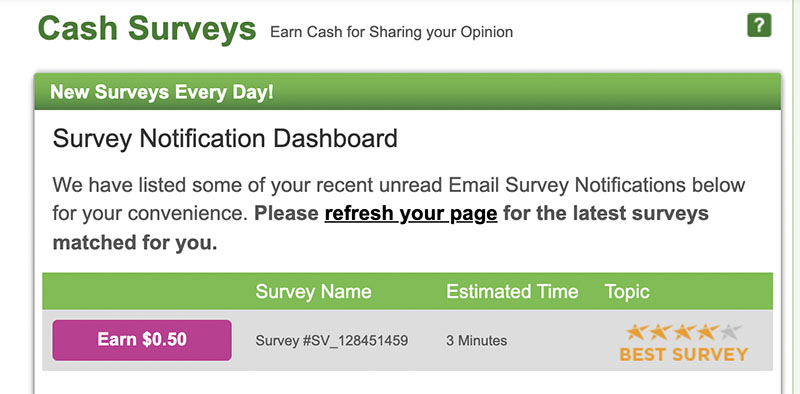 The first way to make money with InboxDollars is to take surveys.
Like many other survey sites, InboxDollars starts users out with a profile survey that covers age, gender, and other basics. The platform will use that information to help match you to eligible surveys.
When you're looking at potential surveys, InboxDollars will show you the reward associated with every option along with the time it will likely take you to complete each one.
Keep in mind that you could lose rewards or eligibility for future surveys if you give false answers or if you simply rush through the survey as quickly as possible.
Videos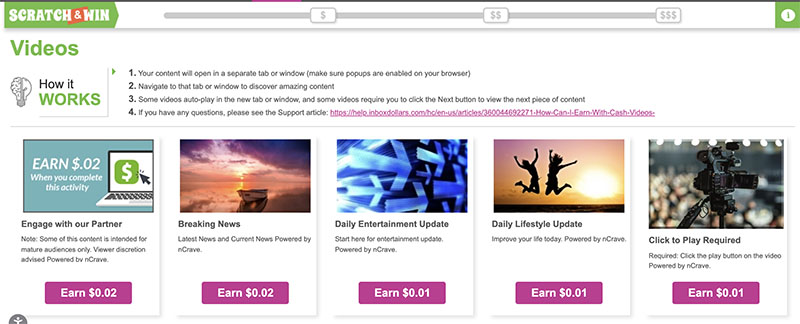 InboxDollars also offers small rewards in exchange for watching specific videos.
When we looked at their website, most videos appeared to be worth just one or two cents, so this might not be a practical way to generate any substantial income.
Of course, some users may have access to videos that we weren't able to see.
While InboxDollars can't stop you from doing other things while the video is running, you will need to keep the tab open for the entire duration.
In other words, you can't simply put a video on in the background and then earn rewards while doing something else on the same device.
Shopping

Furthermore, InboxDollars offers a similar cash-back service to platforms like Rakuten and Ibotta.
When you select an offer from the InboxDollars site, you'll be able to earn cash back by shopping at specific retailers.
For example, we found an offer of 4% back on home decor at Home Depot, with 1% back available on other eligible purchases.
Remember to read the fine print when looking at InboxDollars offers.
While most home decor products were eligible for that 4% rate, a few high-ticket items were left out including rugs, lighting and ceiling fans, outdoor furniture, blinds, and window treatments.
If you're shopping in-person, you can print out coupons from the InboxDollars website and present them at the store.
Along with the savings from the coupons themselves, you'll also receive an additional 20 cents per coupon redeemed plus one cent for every pair of coupons you print.
Finally, the InboxDollars "Magic Receipts" program enables users to earn cash back by uploading receipts that verify the purchase of specific items.
We saw offers of $1 for a gallon of milk, two cents for a banana, and $3 for Soylent Singles at Walmart.
All of these InboxDollars shopping rewards can be combined with benefits from a cash-back credit card, enabling you to double dip on your cash back.
Offers

On top of surveys, videos, cash back, and coupons, InboxDollars provides a wide range of other offers with unique requirements and rewards.
These offers often give users the opportunity to earn significantly more rewards than they could get from other tasks, but they can also be much more complicated and expensive.
For example, we found an Uber Eats offer giving new drivers a $200 bonus when they complete their first delivery.
Assuming you're willing to provide your social security number and submit to a background check, you would be able to earn more than $200 for a single delivery.
Similarly, new Coinbase users could earn a $25 reward by creating an account and trading at least $5 in cryptocurrencies.
As mentioned above, there are many different types of offers available, so you may need to take some time to look for the most lucrative options.
Scratch and Win

As you perform various actions on the InboxDollars site, you'll gradually fill up a meter that will allow you to scratch off a virtual card.
This applies to most InboxDollars activities including surveys, PaidEmails, web searches, and games.
The meter goes up a variable amount with each new action, so it may take you more or less time to fill the bar each time.
After filling up the meter to the first mark, you'll have the opportunity to scratch a card that could give you up to $10 in rewards.
However, you can also continue to fill up the bar without scratching the first card.
The bar will continue to fill until reaching a second mark (up to $25) and finally a third mark (up to $100).
Unfortunately, the website doesn't offer any details about the chances of each outcome, so the maximum prize is probably much less likely compared to less valuable rewards.
Still, you'll naturally fill up the meter as you use InboxDollars, so there's no reason not to scratch your card after reaching the highest level.
Searches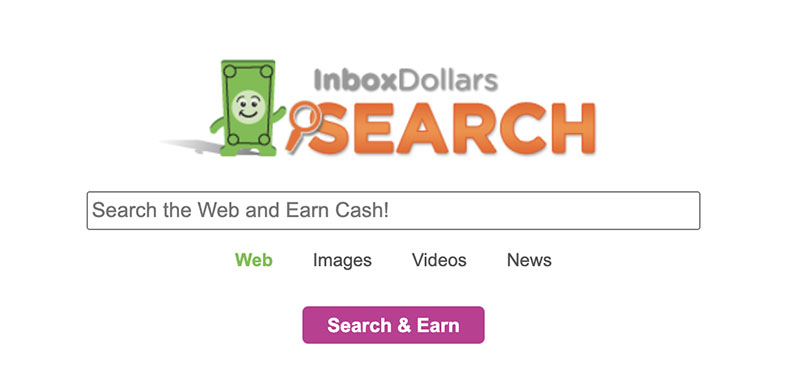 Performing internet searches is the last way to earn rewards through InboxDollars.
You can get cash back simply by entering qualifying search queries into the InboxDollars search engine, which is located on their website.
These searches can contribute toward raising the Scratch and Win meter, and you'll also receive a weekly bonus of five cents if you perform at least one search on four different days in that week.
The Scratch and Win feature is particularly helpful since you can continue to raise the meter by entering more and more searches.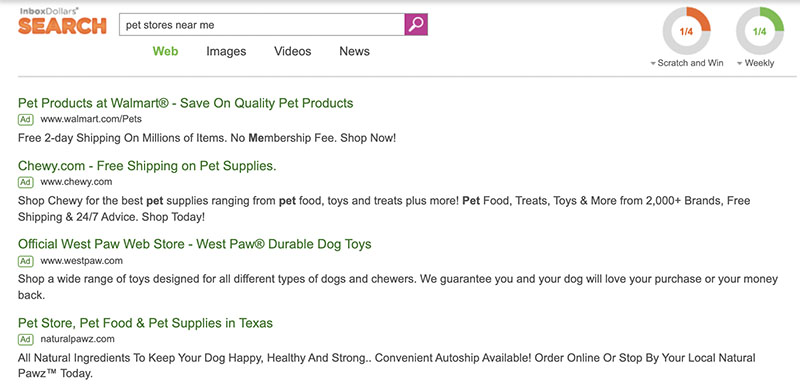 This makes it more efficient for scratch tickets compared to most other activities available on the InboxDollars website.
With that being said, there are a few drawbacks to the InboxDollars search engine.
First, there's no way to know what counts as a "qualified search" in advance.
While we didn't have any trouble after testing out eight different search terms, it's impossible to predict what InboxDollars will or won't count toward your rewards.
Second, the rewards aren't very substantial to begin with.
Even if you make several searches every day, you'll be limited to five cents per week plus whatever you earn from your scratch cards.
Finally, you'll have to keep coming back to the InboxDollars website every time you want to make a search.
Some users will likely find this less convenient compared to a more traditional search engine like Google or Bing.
Can I Trust InboxDollars?
Like with any other reputable rewards platform, the concern most users have with InboxDollars is whether it will offer enough to be worth their time.
The InboxDollars mobile app has an average rating of 3.9 on Google Play and 4.5 on iOS—not terrible, but not exactly a ringing endorsement.

Based on our research, most criticisms of InboxDollars have to do with the low earnings potential.
Some users are also unhappy with other inconveniences like the $30 minimum for withdrawals, the $3 fee for withdrawals under $40, and trouble being matched to surveys.
The gap between the Google Play and App Store ratings appears to be the result of technical issues being more common on Android compared to iOS.
However, users on all platforms seem to agree that InboxDollars pays out as advertised as long as you meet their arguably byzantine conditions.
InboxDollars' parent company CotterWeb was acquired by Prodege in 2019.
Prodege is a major consumer rewards brand that operates other cash-back and rewards platforms including Swagbucks, MyPoints, and Tada.
If you decide to sign up for InboxDollars, it's important to understand that their business model involves extracting consumer data from their own users and (legally) selling that information to interested parties.
However, we haven't found any allegations that either InboxDollars or Prodege has engaged in any malicious or deceptive business practices beyond the complicated conditions for rewards and the ethical issues surrounding the sale of information.
How Did InboxDollars Work for You?
If you signed up for InboxDollars using our referral link, we'd love to hear more about your experience with their platform.
Please take a moment to leave your thoughts in the comments below and help other readers decide whether to create an InboxDollars account.
Thanks
#InboxDollars #Referral #Link #Bonus #November