In this week's news roundup, you'll read about Metaverse Magna securing $3.2 million to develop the largest gaming DAO in Africa, GPH and African Union call for more women and youth to be involved in digital assets investment, and the launch event for TRUST, a graphic novel and motion comic in Nairobi, and more.
TRUST, a Graphic Novel and Motion Comic that Imagines an Alternative African Future Set to Launch in Nairobi
TRUST, a graphic novel, motion comic, and NFT collection, will be launched on September 21, 2022, in a launch event that will be held at UNSEEN Nairobi between 6:30PM – 10:00PM EAT.
TRUST is co-authored by Chief Nyamweya, a Kenyan writer, illustrator and Co-Founder of Freehand Studios and Anne Connelly, the founder of Exponential Technologies Inc, a company dedicated to blockchain education, and produced by Sarah Mallia, Co-Founder of Freehand Studios.
The motion comic was produced by Freehand Studios, an African digital arts and social impact studio. The story is set in a fictitious African Republic and is a gripping story of a young whistleblower, Moraa, who uncovers a plot by one of the most powerful men in the country to illegally acquire the oil-rich Olorur Valley in Wahengaland.
With the help of her community and blockchain technology, she goes on a perilous journey to protect her homeland – the last autonomous region in the country – from cultural and ecological destruction at the hands of the ruthless oligarch Max. Along their journey, they learn about the power of blockchain to organise, fundraise, and transform their future.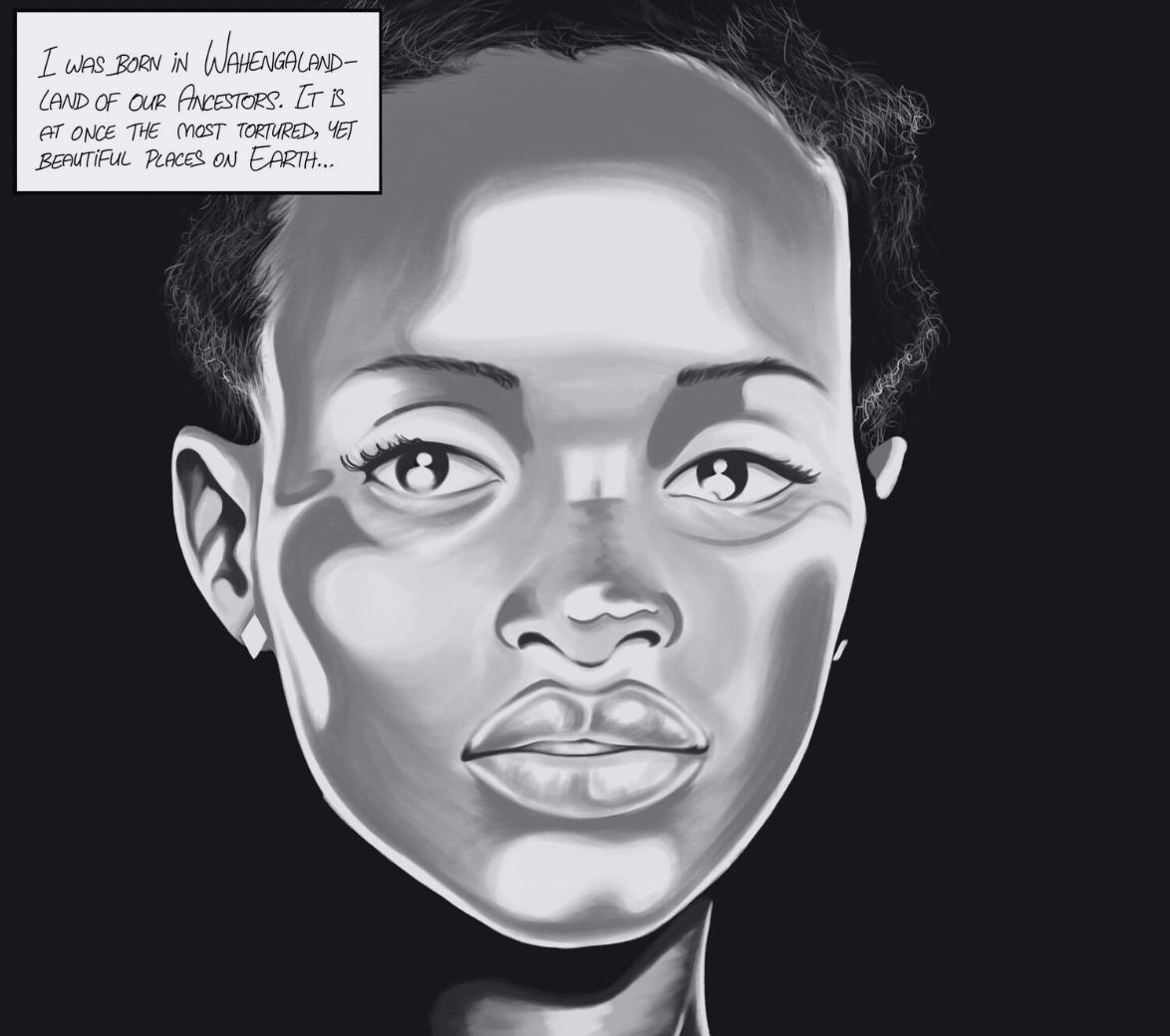 Speaking of TRUST, Chief Nyamweya, the Co-Founder of Freehand Studios, said, "Young Africans are hungry for a vision of an African future rooted in trust, sustainability, and freedom from unaccountable state power. It is the desire to satisfy this hunger with a story of a practicable grassroots alternative that led us to create this transmedia project called 'TRUST.' We wanted to use the power of storytelling to speak to readers and viewers about blockchain technology, inspiring them to see a decentralized future rooted in justice and ecological sustainability."
Since its inception in 2019, TRUST has received overwhelming support from the blockchain community from across Africa and around the world. The novel and motion comic are being distributed freely worldwide via online platforms, including webtoons, YouTube, and the Trust Website.
Additionally, a unique non-fungible token (NFT) collection from the TRUST story Universe is already available.
Crypto Gaming Platform Metaverse Magna Raises $3.2 Million to Create Africa's Largest Gaming DAO
Metaverse Magna (MVM), the largest gaming community in Africa, has secured $3.2 million in a seed token round of funding.
MVM was incubated in partnership with a multi-strategy blockchain investment fund known as Old Fashion Research (OFR). MVM's investment round saw participation from investors such as Wemade – a South Korean video game developer, Gumi Cryptos Capital (gCC) – a Japan-based blockchain-focused venture capital firm, Tess Ventures, Hashkey, LD Capital, Taureon, AFF, Polygon Studios, Casper Johansen (Spartan), and IndiGG.
The platform enables gamers to not only compete and earn crypto but also to build a network of people who share the same interests. Currently, the startup has more than 100,000 members cut across its products and community with opportunities for earning added for competitive and casual gamers, allowing them to earn from free-to-play web2 games they already love. In addition, the startup is also looking to launch a social gaming app called Hyper that will help it achieve its goal.
Yemi Johnson, MVM's General Manager said, "Our goal is to build Africa's largest gaming community while providing the tools across the ecosystem for gamers, investors, game developers, and guild operators. We believe this investment is a huge leap in creating value for all our stakeholders and facilitating the expansion of MVM's operations to provide opportunities for casual gamers through Hyper, our social gaming app with an embedded virtual wallet."
MVM plans to use the funds raised to expand its efforts to create Africa's largest gaming DAO and provide gamers with access to world-class opportunities.
Global Policy House Calls For Investment Of Digital Assets Among Youth and Women
The Global Policy House (GPH), in partnership with the African Union (AU), has held a summit to encourage the use of digital investments among the youth and women in Africa.
GPH is an investment, digital economy, and blockchain solutions business that exists to close the digital, finance, and identity divide, ensuring that no one is left behind.
Speaking in a panel discussion at a Nairobi hotel, held on Spetmeber7, the GPH Founder and Chief Executive Officer (CEO) Michelle Chivunga stated that digital assets like central bank digital currency (CBDC), stablecoins, and cryptocurrencies should be adopted as they have created an economic opportunity in Africa.
"In a year, we have around 105 billion of Crypto currency circulating in Africa and over 90 percent of Central Banks around the world are looking at Central Bank Digital currency. We are going to focus on educating women, Small and Medium Size Enterprises (SMEs) and youths because they are the drivers of growth in the economy," said Chivunga.
She went ahead to state that women need to be familiar with digital assets and have the knowledge, skills, and understanding of how to operate the assets to create an opportunity for competitiveness with global operators in order to grow their business internationally.
Although Chivuga acknowledged that various investors are keen on digital assets, she emphasized the need to have the institution develop a regulatory policy to guarantee the safety of the business environment.
Nigeria Set to Establish a Special Economic Zone for Crypto in West Africa
Nigeria is seeking to create the first economic free zone for Bitcoin and other cryptocurrencies in West Africa through the Nigeria Export Processing Zones Authority (NEPZA).
The West African country is in talks with global cryptocurrency exchange, Binance, as well as Talent City, which specialises in building special economic zones.
Speaking of the partnership, Adesoji Adesugba, NEPZA'S Managing Director, said, "Our goal is to engender a flourishing virtual free zones to take advantage of a near trillion dollar virtual economy in blockchains and digital economy."
To learn more about Bitcoin, download the Bitcoin Beginner's Handbook for free.


Source link