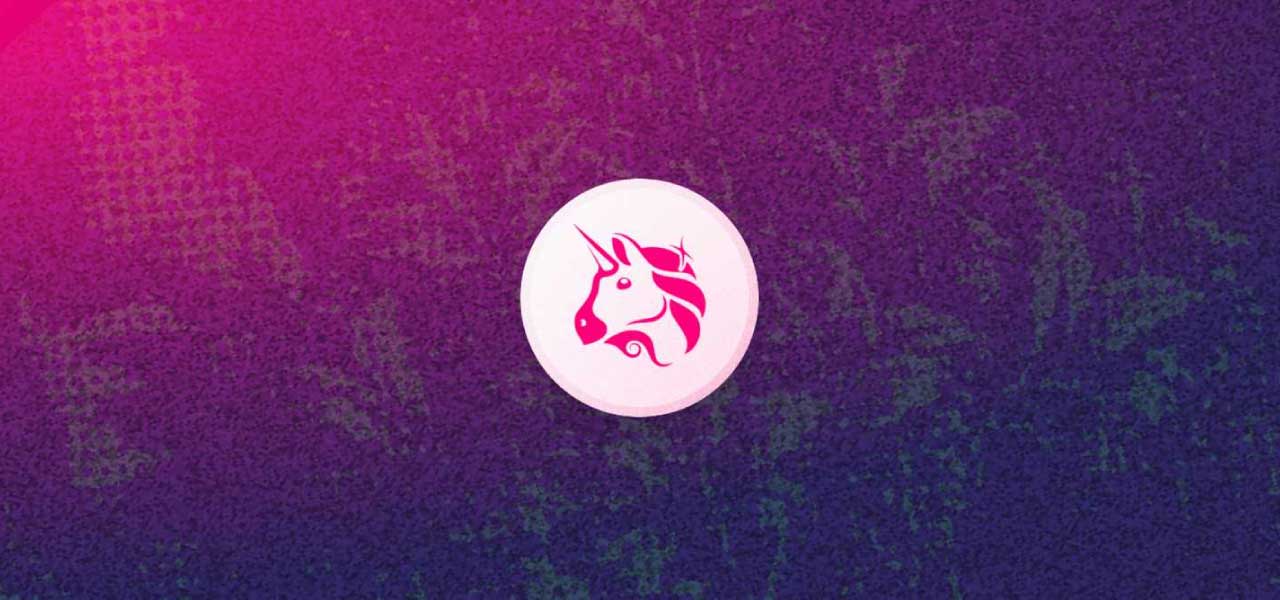 What is Uniswap?
If you haven't heard of this unicorn yet, you may live on another planet! Maybe you've just discovered cryptos with the craze of DeFi and yield farming… Anyway, welcome to the Uniswap airdrop, one of the biggest crypto airdrops in value I've ever seen!
Uniswap is a decentralized exchange (DEX) for cryptocurrencies. So it's an exchange platform like Coinbase, Kraken, or Binance. But instead of being centralized in the hands of a corporation, it's just a protocol with two smart contracts on the Ethereum blockchain.
These two contracts, developed by a small team in Brooklyn, NY, allow users to swap ERC20 tokens and ETH, without the need of an intermediary. And it's become huge: According to Hayden Adams on Coindesk, users trade 150M USD a day on the DEX.
I've been using it for a while, lately to invest in small-cap tokens like SWAP and AXION and it's ridiculously easy to swap tokens: ERC20 to ETH, ETH to ERC20, and ERC20 to ERC20.
The only drawback these days is the gas fees… Some transactions are getting really expensive, with the price of gas going through the roof. But it should be fixed with Ethereum V2, if it ever comes!
Anyway, if you want to learn more about this disruptive exchange platform, read their whitepaper.
UNI tokens by Uniswap
The announce of the launch of the Uniswap Protocol token was made on their blog on September 16, 2020. And the crypto-space went crazy (once again). Because 15% of the 1,000,000,000 total supply – or 150,000,000 tokens – have been distributed to users and liquidity providers!
UNI is a governance token on Ethereum. And it represents voting shares in the protocol governance. UNI holders can vote or delegate their vote on each proposal. At the time I write about this Uniswap airdrop, there isn't any proposal yet:

How to get free UNI tokens?
First of all, here's bad news: Not everyone can claim UNI tokens. Indeed, you must have been a Uniswap user before September 1, 2020. It doesn't matter if you swapped tokens or if you provided liquidity. But you must have used the protocol before this date.
If you're a lucky one, head to https://app.uniswap.org/ and connect the Metamask wallet with the address you used previously on the platform. And you should see a kind of pop-up, on the right of the window, with a button "Claim your UNI tokens."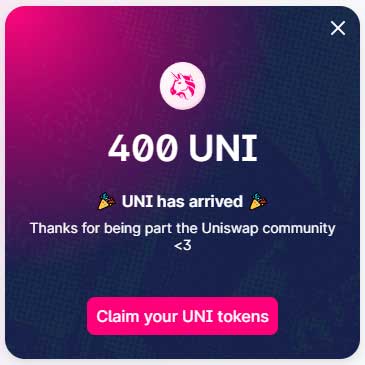 Click on that button and select the gas price (GWEI) for the transaction. If you're not sure what price to select, check the recommendations from https://ethgasstation.info/.
Because of this coin airdrop, the gas price is quite high. While you could wait a little before claiming UNI tokens, I haven't read anywhere what's the deadline to claim. So you'd better claim this free money asap!
I've done some research on what to do with these free UNI tokens. And I've read I should swap it for free ethereum (because we don't know what the price will be in a few weeks) or hold it (because this is a serious project with price estimations of 10 to 20 USD per token). So I swapped 50% and I'm holding the rest!
DYOR. NEVER share your private keys! And NEVER use an exchange wallet address! Instead, we recommend using Trezor wallet.
Legal Disclaimer: This website does not offer investment advice. The author is an amateur investor and the information found here is for informational, entertainment, or educational purposes. As a result, it should not be construed as personal investment advice. While the information provided is considered accurate, it may include errors or inaccuracies. This website and the author can't be held responsible for any action you take as a result of what you have read here. Learn more.
DON'T MISS A SINGLE AIRDROP
9.6
Total Score
We've reviewed hundreds of cryptocurrency airdrops since this airdrop alert site is live. And here's our take on this crypto airdrop. With a score below 5, you may never receive your tokens. But if it's above 8, you'll definitely get your free cryptocoins!


Source link